Order Barcode Labels Tool - Corporate Edition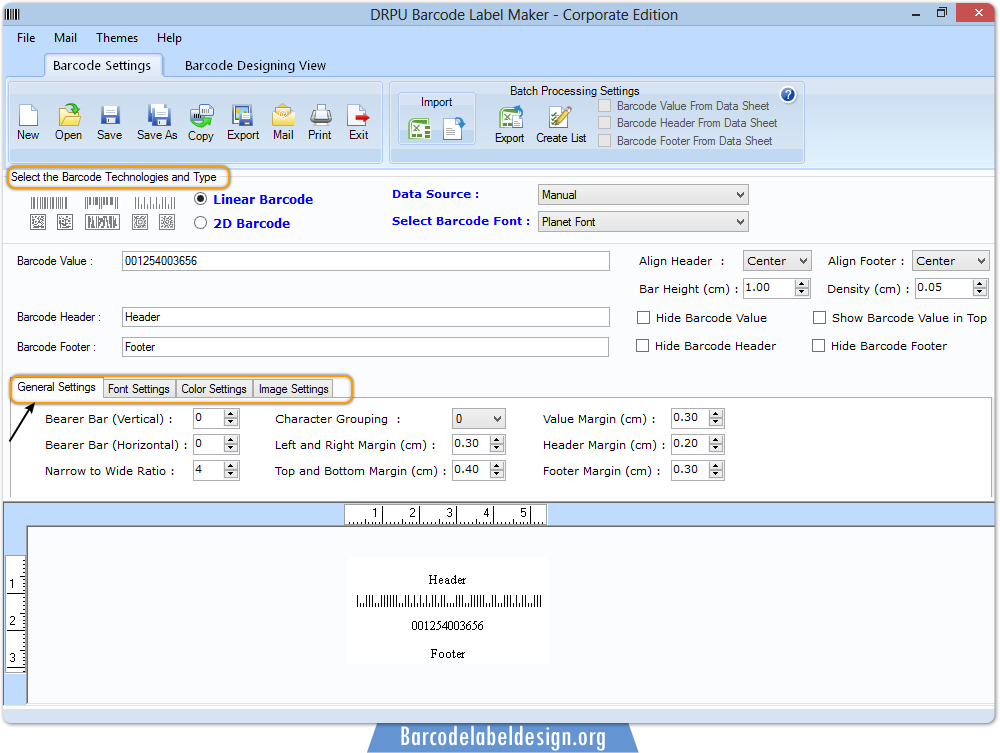 STEP 1: Start Designing Barcode image
Design Barcode images using barcode technologies, different barcode values, header, footer, character grouping etc. as shown in above screen.NEXT STEP
Supported Barcode Fonts
Linear Barcode Fonts: Coda bar, Code 11, Code 128, Code 128 SET A, Code 128 SET B, Code 128 SET C, Code 39, Code 93, Code 39 Full ASCII, EAN13, EAN8, Industrial 2 of 5, Interleaved 2 of 5, ISBN 13, ITF-14, LOGMARS, MSI Plessey, Planet, Postnet, Standard 2 of 5, Deepen, UCC/EAN-128, UPCA, UPCE, USPS Sack Label, USPS Tray Label, USS-93

2D Barcode Fonts:

Aztec, Data bar, Data bar Code 128, Data bar Code 128 Set A, Data bar Code 128 Set B, Data bar Code 128 Set C, Data bar Expanded, Data bar Limited, Data bar Stacked, Data bar Stacked Omni, Data bar Truncated, Data bar EAN 13, Data bar EAN 8, Data bar MicroPDF417, Data bar PDF417, Data bar UPCA, Data bar UPCE, Data Matrix, Maxi Code, PDF417, QR Code, MICR Font
In Pre Define Label Stock Print Mode, we provide different types of Label Products including:
Ace Label, A-ONE, APLI, Avery A4, Avery US Letter, Avery Zweckform, C-Line Products Inc., Compu Label, Formtec, Herlitz PBS AG, Herma, Hisago, INETA S.A. , KOKUYO, Lorenz Bell, MACtac Starliner Label, May + Spies, Office Depot, Planet, Printec, Sigel GmbH, TANEX, Tico, Tower, Unistat.
Minimum System Requirements
Pentium class or equivalent
256 MB RAM recommended
18 MB free hard disk space
Bar code software supports all major windows OS including Windows 7, Windows Vista, Windows XP, Windows Server (2008/2003/2000) etc.
Download barcode software - Corporate Edition: Try Corporate barcode software demo version to evaluate features and working ability of the barcode generator before purchasing the licensed version of the program.